Made to grind or regrind, the DuraTech 3309 series of industrial tub grinders are the most economical grinders on the market.
With a CAT C9 325 hp (242.4kw) Tier III diesel engine, a self-adjusting HPTO microprocessor-controlled clutch, enclosed engine compartment with a self-cleaning air intake system, it's efficient and affordable. Plus, it's available with a pintle or fifth wheel hitch and as a Track powered unit for those hard to get to grinding sites. The DuraTech 3309 industrial tub grinders are built to grind and built to last.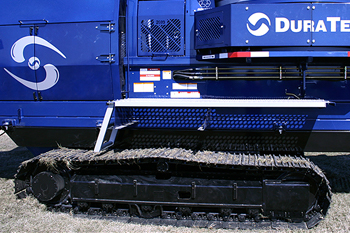 Features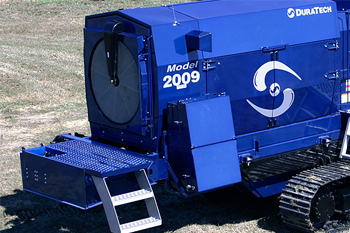 Rotary Self-cleaning Screen W/ Enclosed Engine Compartment
The self cleaning screen combined with the enclosed engine compartment reduces maintenance and noise, and provides for flexible positioning of the grinder. The door on the screener and the three doors per side on the engine compartment provide easy access to the radiator, oil coolers and engine for servicing.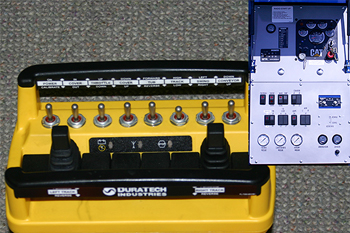 Command Console With Remote Control
The Model 3309 Track Command Console features master engine controls, gauges, and shutoff. Also included on the command console are electric over hydraulic controls for the clutch, governor, and stacking conveyor. The optional 6 function Remote controls; engine stop, tub rotation, stacking conveyor and optional tub cover.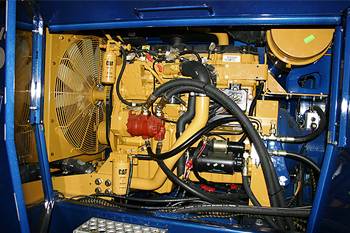 325 Hp C9 Caterpillar Electronic Diesel Engine W/ Enclosed Engine Compartment
The 3309 Track is powered by a 325 HP (242.4 kW) C9 Caterpillar Electronic diesel engine that has the lowest decibel reading in its class, and is backed up by Caterpillar's superior service and reliability. The engine is housed in an enclosed engine compartment to protect the engine from debris, and further reduce noise levels.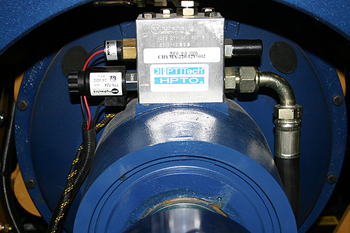 PT-Tech Hpto-12 Clutch
The Model 3309 Track industrial tub grinder is equipped with a self adjusting PT-TECH HPTO-12 clutch. This clutch is microprocessor controlled with a built-in torque limiter and brake that provide superior protection for the engine and drive line.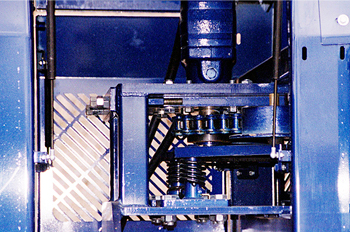 Single Drive Orbit Motor Drives The Tub
Utilizing a Heavy Duty 120H Drive Chain, a Continuous Chain Sprocket around the tub, and Dual Spring Adjustable Chain Tension, the tub is driven by a Single Orbit Motor. Tub Speed is controlled by the electronic governor.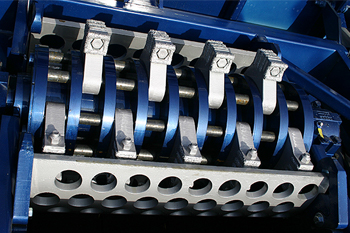 40" Rotor
The Model 3309 Track industrial tub grinder is equipped with a 40" (101.43 cm) rotor mounted on a 4-1/2" (11.43 cm) shaft with 3-1/2" (8.89 cm) oil bath bearings. The dynamically balanced rotor may be used with either 20 fixed hammers or 36 swinging hammers.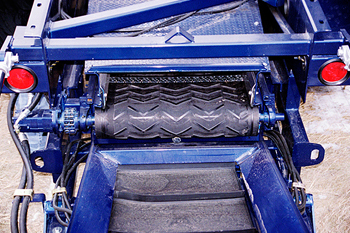 30" Wide Belly Belt
30" Wide Impact Resistant Belly Belt carries the finished product to the stacking conveyor.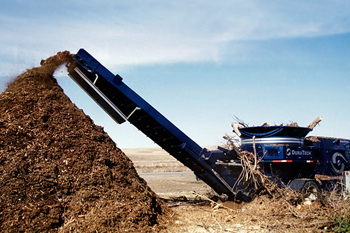 24" Wide By 11' 6" Long Top Drive Compact Stacking Conveyor
The 24" (60.96 cm) Wide by 11' 6" (3.5 m) Long Top Drive Compact Stacking Conveyor allows the operator to load material into a truck or onto an existing pile.  An optional Magnetic Roller and Aluminum Chute removes ferrous metal from the finished product.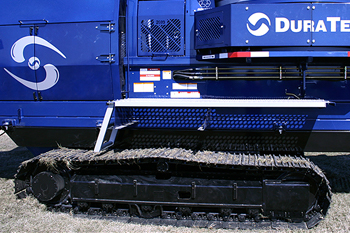 Caterpillar Track System
The Model 3309 Track industrial tub grinder is equipped with a 312 CAT Tracks with 500mm Shoes 20" (50.8 cm) Wide X 11' 6" (3.5 m)..
Standard Options
Built in torguq limiter and brake
40" rotor mounted on 41/2 shaft with 31/2 oil bath bearings
325 HP C9 Caterpillar Electronic Diesel Engine
Self-cleaning air intake system
24" wide top drive 21' stacking conveyor
Optional Features
Fixed or swing hammers
Magnetic Roller Complete w/ Aluminum Deflector Chute Discharge Conveyor Drive Roller
Remote control
Tub cover

Specifications

WEIGHT
Total
30,000 lbs. (13,608 kg)
TRANSPORT DIMENSIONS
Transport Width
8 ft. 6 in. (2.59 m)
Transport Length
27 ft. 5 in. (8.36 m)
Transport Height w/ Tub Cover
129.85 in. (329.82 cm)
ENGINE AND TRANSMISSION
Engine
Caterpillar 325 HP C9 Electronic Diesel
Clutch
PT Tech HPTO-12
Governor
Electro-Hydraulic Load Sensing
Safety Switches
Safety Shutdown
CHASIS FEATURES
Electrical
24 volt machine
Fuel Capacity
100 Gallons (378.5 Liters)
Hydraulic Oil Capacity
50 Gallons (189.3 Liters)
TUB
Tub Width
9 ft. 6-3/8 in. (2.91 m) at Flare
Depth
3 ft. 4 in. (1.02 m)
Tub Diameter at Base
7 ft. 6 in. (2.27 m)
Tub Wall
3/16 in. (.476 cm) Thick
Tub Floor
1/4 in.(.635 cm) Thick
Tub Drive
Hydraulic Orbit Motor
Tub Speed Sensor
Electronic Self Governing
CONVEYORS
Stacking Conveyor
11 ft. 6 in. (3.5 m) Long Top Drive X 24 in. (60.96 cm) Wide X 8" (20.3 cm) Depth
Belly Conveyor
30 in. (76.2 cm) Wide /w a V Cleat
HAMMERMILL
Hammers
20 Fixed Single Bolt Hammers, or 36 Swing Hammers
Length
40 in. (101.6 cm)
Cylinder Shaft
4-1/2 in. (11.43 cm) Stress Proof Steel
Cylinder Plates
16 in. (40.64 cm) Diameter X 1-1/2 in. (3.81cm) Thick
Hammermill Opening
41 in. (104.14 cm) X 25 in. (63.5 cm)
Screens
1 in. (2.54 cm) Thick Split Screens
Hammer Rods
1-1/2 in. (3.81 cm) Diameter
Bearings
3-1/2 in. (8.89 cm) Pillow Block Bearings
Hammermill Drive
Direct Drive Torque Limiter