If you want a horizontal grinder that will give you the maximum return on your investment, this is the one.
This heavy-duty midsized grinder is now available on a CAT 320 L Track System. It is available with your choice of CAT Tier III engines to meet your grinding needs.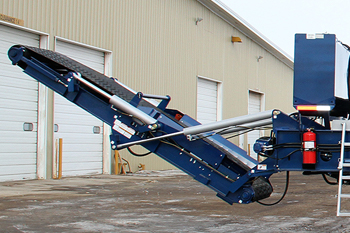 Features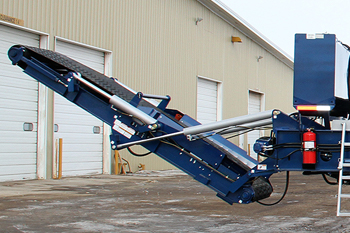 48" Wide By 13' Long Discharge Conveyor
The 48" (121.92 cm) Wide by 13' (4.06 m) Long Discharge Conveyor allows the operator to load material into a truck or onto an existing pile. An optional Magnetic Roller and Aluminum Chute removes ferrous metal from the finished product.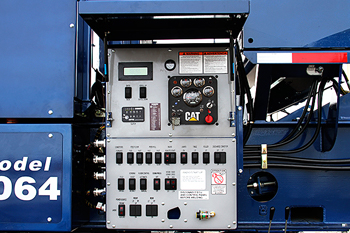 Command Console With Optional Remote Control
The Model 9064T Command Console features master engine controls, gauges, and shutoff. Also included on the command console are electric over hydraulic controls for the clutch, governor, and discharge conveyor. The optional 19 function remote control allows the operator to have complete control of the grinder while operating support equipment.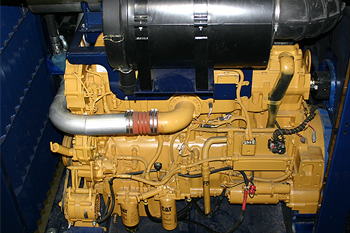 Caterpillar Diesel Engine W/ Enclosed Engine Compartment
The 9064T is available with your choice of CAT engines to meet your grinding needs. Choose from 475 HP (354 kw), 540 HP (403 kw), or 630 HP (470 kw), all with a HPTO 14 TD wet clutch for your specific requirements of productivity and efficiency. The engine is housed in an enclosed engine compartment to protect the engine from debris and reduce noise levels.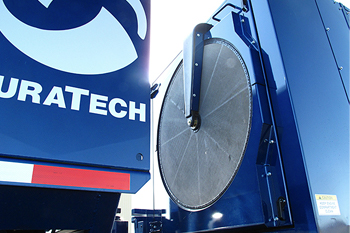 Rotary Self-cleaning Screen
In order to provide constant clean air to the engine and radiator the 9064T employs a Rotary Self-Cleaning Screen. The Rotary Self-Cleaning Screen reduces maintenance, provides easy access to the radiator for servicing, and allows for flexible positioning of the grinder.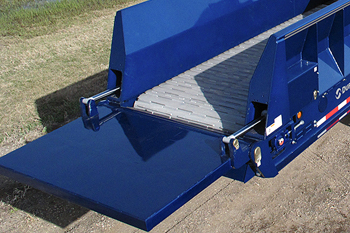 Hydraulic Feed Door
The Model 9064T Heavy Duty midsized horizontal grinder is equipped with a Hydraulic Feed Door for easy loading and safer grinding.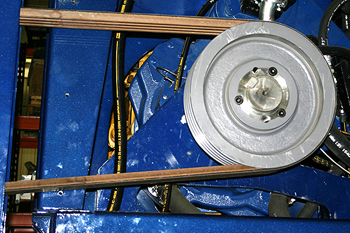 4 Groove Belt Drive
The 4 Groove Belt Drive connects the wet clutch to the hammermill.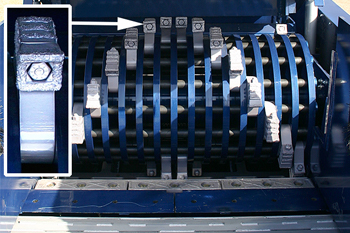 64" Hammermill
The Model 9064T horizontal grinder is equipped with a 64" (162.56 cm), 8,850 pound (3,878 kg) Hammermill that utilizes 32 single bolt hammers for superb grinding performance.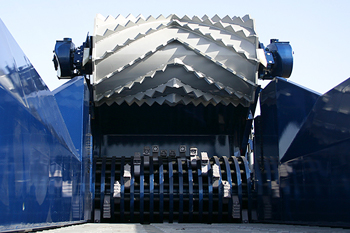 Self Governing Floor Apron And Feed Roller
The hammermill is fed by a Self Governing Floor Apron and Feed Roller through a 61-1/2" (156.2 cm) wide X 35" (88.9 cm) high feed opening. The programmable logic speed control (PLC) governs the product flow through the 13'2" (4.01 m) long 197 Cubic Foot (5.59 Cubic Meter) feed hopper for maximum grinding efficiencies.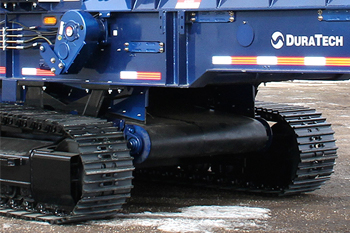 54" Wide X 22' (6.71 M) Long Belly Conveyor
The 54" (137.16 cm) WIDE X 22' (6.71 m) belly conveyor provides fast removal of ground product from under the Hammermill/screens.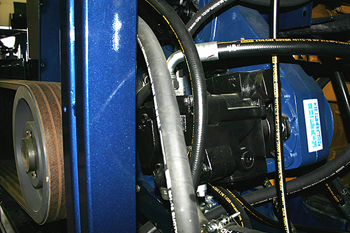 PT-Tech HPTO-14 Wet Clutch
The Model 9064T horizontal grinder is equipped with a self adjusting PT-TECH HPTO-14 wet clutch that provides easy push button startup. This clutch is microprocessor controlled with a built-in torque limiter and brake that provide superior protection for the engine and drive line.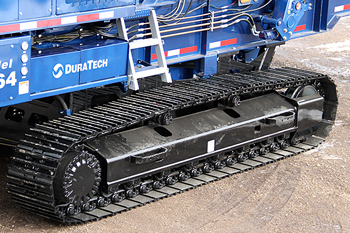 Caterpillar 320l Steel Track System
The Model 9064T is equipped with a 20" (50.8 cm) wide x 15' (4.57 m) long Steel Caterpillar 320L Track System.
Standard Options
Self-cleaning air intake system
Self-governing apron and feed roller
CAT 320 L Track System
4 groove belt drive system
Hammermill with 32 hammers
HPTO wet clutch
Optional Features
Magnetic Discharge Roller
Remote Control

Specifications

WEIGHT
Total Weight
80,000 lbs. (36,287.4 kg)
TRACK SYSTEM
CAT 320 L Track System
20" (50.8 cm) Wide x 15' (4.6 m) Long Steel Track
MACHINE DIMENSIONS
Transport Width
9 ft. 10 in. (3 m)
Transport Height
11 ft. 5 in. (3.48 m)
Transport Length
37 ft. 8 in. (11.48 m)
DRIVE SYSTEM
Engine:
Caterpillar C-18 630 HP (470 kw) Diesel Engine
Caterpillar C-15 540 HP (403 kw) Diesel Engine
Caterpillar C-15 475 HP (354 kw) Diesel Engine
Clutch
HPTO 14 TD Wet Clutch
Fuel Capacity
300 Gallons (1,135 L)
Hydraulic Oil Capacity
145 Gallons (548.9 L)
Rotor Drive
4 Groove Belt
FEED SYSTEM
Hopper Capacity
197 Cubic Ft. (5.59 cu. m)
Hopper Width
61-1/2 in. (156.2 cm) Bottom, 74 in. (187.7 cm) Top
Hopper Length:
13 ft. 2 in. (4.01 m)
Hopper Depth
35 in. (88.9 cm)
Feed Opening
61-1/2 in. X 35 in. (156.2 cm x 88.9 cm)
Hopper Loading Height
96 in. (234.8 cm)
Feed Roller
36 in. (91.44 cm) dia.
GOVERNING SYSTEM
Load Speed Sensor
Programmable Logic Controller
The PLC (Programmable Logic Controller) regulates feed rate based on rotor speed. Feed rate is proportional to rotor speed. Maximum feed rate is adjustable. Hammermill weight consists of shaft, hammer rods, bits, hardware, and tool holders.
HAMMERMILL
Weight
8,550 lbs. (3,878 kg)
Rotor Bearing Diameter
4-7/16 in. (11.27 cm)
Rotor Shaft
7 in (17.78 cm) Alloy Steel
Rotor Width
64 in. (162.6 cm)
Rotor Plates
32-1/4 in. (81.92 cm) dia. X 1-1/2 in. (3.81 cm) Thick
Tip Swing Diameter
41 in. (104.14 cm)
Number of Hammers
32 Single Bolt
Hammer Rods
(16) - 2 in. (5.08 cm) dia.
SCREENS
Screen Area
3,705 sq. in. (2.39 sq. m)
Hole Sizes
Available in a variety of sizes
BELLY CONVEYOR
Length
22 ft. (6.71 m)
Width
54 in. (137.2 cm)
STACKING CONVEYOR
Length
13 ft. (4.06 m)
Width
48 in. (121.92 cm)
OTHER
Electrical
24V
Lights
Clearance, Directional
OPTIONS
Air Compressor
Available
Magnetic Roller
Available